Key Features:Kaff RAY - 60 Essential Chimney is equipped with 900 m3/h Suction Capacity. It has 2x40 watts Lamps and stainless steel finish with Metallic Conveyor. It also has 3 Speed Push Buttons Controls and Anodised Aluminium Washable Filter. It has 59 dbA (Max) Noise Level, 150 mm Air Outlet and 60 cm Width
The Product installation should be done by authorized Company engineer only. Need to call service center and open packing in his presence only. Any shortage or damage of product will be entertained only when Company Engineer mention in his report. Please send copy of report along with complaint.
Product Warranty is as per Company rules which is mentioned on the pack.
Introduction
. The chimney has a width of 60 cm. It is compact and easily installable. Complete with a stainless steel finish, the chimney suits diverse décor types. The maximum noise level is just 59 dbA. This ensures that the chimney is quiet even when the speed levels are on high. Since Indian cooking involves a dynamic range of cooking techniques and frequently used ingredients are often flavoursome and pungent a chimney in the kitchen goes a long way in keeping it clean and tidy. Laden with fabulous features, this chimney efficiently negates the soot and grime, which accumulates in the kitchen otherwise.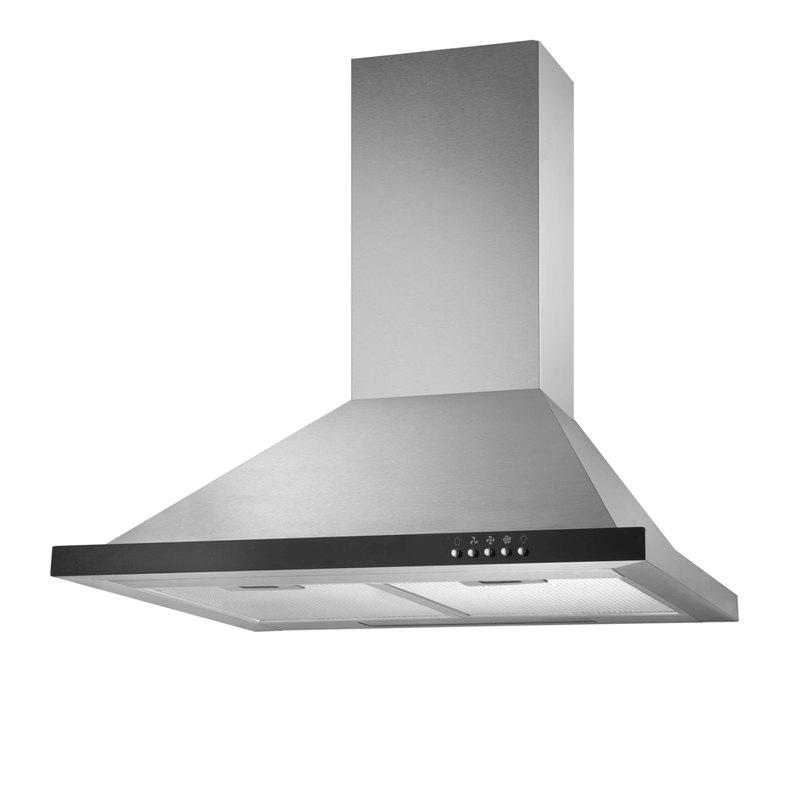 Material Used
The well-engineered Kaff Ray 60 chimney is sturdy. It is made of stainless steel and has a black front panel. The steel finish looks striking and attractive, while the black panel up front adds depth in terms of design. The filter though, is made of aluminium.
Buttons & Controls
The chimney is equipped with a push button panel, which makes control easy. The five push buttons are present in the front of the chimney.
Air Outlet
Equipped with a 150 mm air outlet, the Kaff Ray 60 makes sure that a large volume of smoke or fume is vented out at a time. It helps maintain a fresh and tidy atmosphere inside the kitchen by venting out pungent fumes and smoke efficiently.
Auto Shut On/Off

N.A
Filter
The filter is sturdy since its made of aluminium. Aluminium is not a highly reactive metal. This limits any chance of staining, corrosion and abrasion caused by continuous exposure to smoke and fumes in the kitchen. Also the filter efficiency is helped by the 900 m3/h suction capacity, which maximises the volume of air being vented out.
Lighting System
The lighting system includes two 40 Watt lamps, which makes sure that the kitchen area is well lit at all times.